Cuvée

Brut Réserve Grand Cru Champagne Faucheron-Gavroy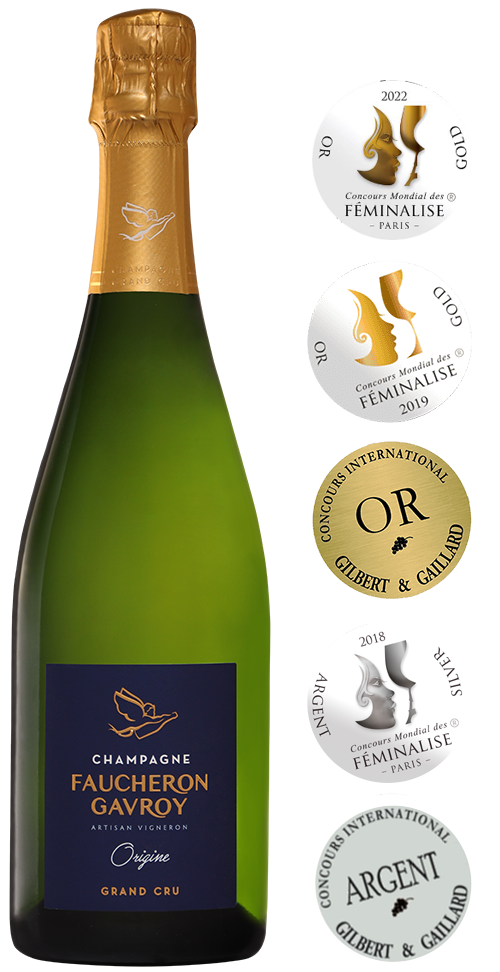 Tasting notes
Pale gold color with a fine cord and soft effervescence.
The nose is mature and delicious on butter brioche, yellow peach in syrup and candied fruits (pineapple, apple, grape). After aeration, appreciable notes of blackcurrant and strawberry coulis reinforce the complexity of this gourmet champagne.
The palate is round and smooth with well-integrated acidity. We find the same delicacy on the palate with notes of pineapple and candied apples and mirabell plums as well as a buttery touch with a finish on chalk and straw.
A fruity and very gourmet champagne, it easily accompanies a pan-fried foie gras or a quail stuffed with grapes.
Information sheet from the cellar master
Varieties: 80% of Pinot Noir and 20% of Chardonnay
Blend: 2019 with 40% reserve wines
Grand Cru vine plots:
Verzy: 40% of Pinot Noir and 20% of Chardonnay
Verzenay: 40% of Pinot Noir
Maturation: 3 years in our vaulted cellars at 11°C (51.8°F)
Alcohol rate: 12%
Liqueur dosage: 5g/btl
Available bottlings: 75cl
Awards
Gold medal at Feminalise World Wine Competition in 2022
Gold medal at Feminalise World Wine Competition in 2019
Gold medal at International Challenge – Gilbert & Gaillard in 2019
Silver medal at Feminalise World Wine Competition in 2018
Silver medal at International Challenge – Gilbert & Gaillard in 2018