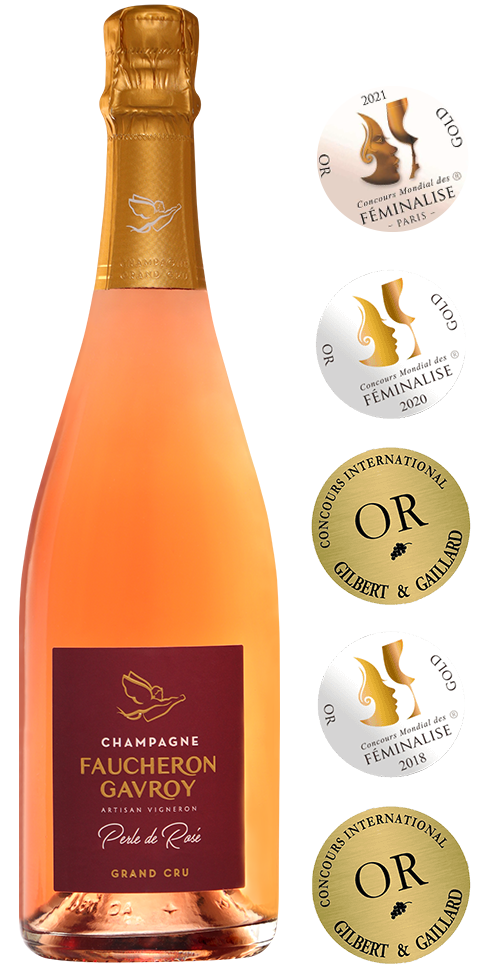 Tasting notes
This rosé champagne has a brilliant, intensive-colored robe from which delicate fine bubbles emerge. The nose is fine, subtle with notes of fresh strawberries, mackerel blackcurrant and redcurrant.
The mouth is expressed on airs of strawberry jam, raspberry fruit jellies with a finish on cherries in brandy.
Information sheet from the cellar master
Blend: 2019 with 40% of reserve wine
Varieties: 70% of Pinot Noir from Verzenay, 18% of Chardonnay from Verzy and 12% of red wine from Bouzy
Maturation: 3 years in our vaulted cellars at 11°C (51.8°F)
Alcohol rate: 12%
Liqueur dosage: 5g/btl
Only available in 75cl bottles
A coppery cherry color, a bouquet of red berry aromas, a full-bodied taste. Unique for the aperitif, it will surprise you with a salmon and will delight you with a dessert made from red berries and coulis.
Awards
Gold medal at Feminalise World Wine Competition in 2021
Gold medal at Feminalise World Wine Competition in 2020
Gold medal at International Challenge – Gilbert & Gaillard in 2019
Gold medal at Feminalise World Wine Competition in 2018
Gold medal at International Challenge – Gilbert & Gaillard in 2018